The Birth of Colebrook Financial
The life of the business entity that eventually became Colebrook Financial began on July 2, 1993, when Bill Ryczek went to City Hall in Meriden, CT to bid on individual tax liens being sold by the city. With an offer of $17,887.39, he was the successful bidder for the lien on a single family residence located at 150 Ives Avenue. He gave his personal check in the amount of $2,683.11 for the 15% deposit and received the receipt attached below.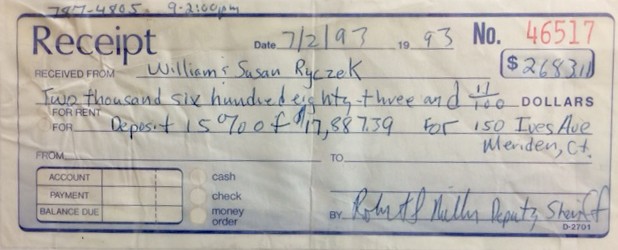 Bill, Jim Bishop, Fred Dauch and Linda Heller formed a partnership called Cross County Investment Associates and contributed the remaining capital to purchase the lien. On the day before the expiration of the one year redemption period, Cross County received payment in full, including a year's interest at the statutory rate of 18%. The investment met Cross County's initial criteria, a good return with the only work consisting of watching the calendar and checking periodically to make certain the property hadn't burned down. It was an encouraging but modest beginning.